Alumni Theme for the year 2009/2010
Strengthening Ties to achieve greater heights!!!
President 2009/2010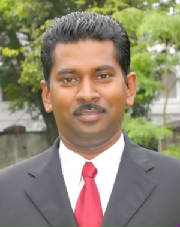 Anusha Wijeguneratne
Our Association enters its 13th year of service, with the dawn of a new era of national unity in Sri Lanka.

We are now at a point in the crossroads of the history of our country when there are great expectations of an unprecedented period of growth and prosperity. As a professional association with the potential for meaningful contribution, it is our moral responsibility to participate in this period of vibrant growth by further strengthening the relationships we have, not only within our membership, but also with the University and with the Business Community of our Country.

The Association has therefore provided a platform to achieve these objectives, while co ordinating activities on learning, knowledge sharing and the development of the soft skills of its membership with focus on the theme of the year "Strengthening Ties to achieve greater heights".

The Executive Committee anticipates the active support of all our members to carry the association forward in our efforts to make ourselves a group of professionals who make a difference, separating the great from the good, thereby leading us to our vision of being the "First choice of business governance".

If you are an MBA graduate from the University of Colombo, you should seriously consider joining us and making yourself a competent MBA who is a part of a successful professional team.
STAYING CONNECTED.........
THEME FOR THE YEAR 2006/2007
President 2005/6

Rohan Seneviratne
We will facilitate our membership to stay connected, meet each other, have fun, gain and share knowledge and ideas and have mutually beneficial relations with the University in order to maximise the value of the MBA programme.
Colombo MBA Alumni Association (CMBAAA) elected its president 2006/7, Rohan Seneviratne at the AGM held on 07th July 2006 at Taj Samudra Hotel.
Seneviratne has worked for the Ceylon Electricity Board since 1986, holding a number of senior positions and is currently the Chief Engineer, Colombo City. He has more than 20 years experience in the field of electrical engineering. He completed his MBA programme at University of Colombo in 1997Mr.Seneviratne's involvement with CMBAAA began in 1988 with his appointment to the Executive Committee. In the year 2003 he was elected as the Assitant Secretary and in 2004 as the Vice President and in 2005 as the Deputy President.
XXXXXXXXXXXXXXXXX
BUILDING A MIND NETWORK - Theme for 2002-2003
President 2002/3



Chris Corea

"A network of some of the best minds in the country......"

We have amongst our alumni accountants, engineers, lawyers, doctors, bankers, academics etc. They serve both the public and private sectors of the economy in very senior and responsible positions.

We propose to create a multidisciplinary, multicultural, multiethnic network of professionals and academics which will constitute an instant support group of MBA graduates from the University of Colombo.

This support group will assist our alumni to further their interests - both personal and corporate accross the length and breadth of this country.

We believe that such a network of contacts will significantly enhance the value of our alumni to their workplaces.

Let us pool our resources and build this network together!




Please await details of following past presidents.

2001/2002 - K.U.Pushpakumara

2000/2001 - D.Dharmadasa

1999/2000 - Sarath Kumarasinghe

1998/1999 - S. Sadanandan

1997 - 1998 - Chanaka Ellawala (1st President)


Working Together, Building each other !!
Theme for the year 2008/2009
President 2008/2009

Neil Perera
As the Association enters its 12th year of service, the Executive Committee will work closely with the Alumni, encouraging at least a few to be members of project committees along with ExCo members in organizing events. This will broad base the commitment to the Association, motivate future leadership potential, provide for succession and help maintain the enviable position of leadership the Association and the MBA program has achieved as the "First choice in business governance" in the country.
We will continue to work closely with the University of Colombo in its endeavours to provide world class business education to Sri Lankans and even extend facilities to others from the region.
The Faculty of Management and Finance was listed by Eduniversal, France as one of the 1000 best Business Schools worldwide for 2008.
The Association will continue to host the much sought after public events such as the Management Conference "Beyond Traditional Boundaries" and the seminar on the National Budget and also come up with new activities designed to mutually build its stakeholders, the members, the Faculty and the Buseness Community.
If you are an elite MBA from the University of Colombo, come join us and see how you can meet like minded persons and make a positive impact !
Building stronger links and adding value by networking..............
Theme for the Year 2007/2008
President

Hilary Fernando
The journey begun in 1997 will continue with even more passion, to build a vibrant membership and to add value to members and the MBA programme.
We will strive to foster continuous learning to our members, thereby enhancing their professional development, to enable them to exel in the ever changing business landscape.
Delivering value to membership will be a key focus and to support this we will create more opportunities for our members to network with members of other Alumnis, Academics and Industry Leaders and share their experiences. In order to broaden and build a closely knit member base, Alumni awareness programmes, fun events and other activities to promote networking will be conducted during the year.
Enhancing the value of MBA programme will be an important mission for us and we will facilitate this by supporting the programme with appropriate industry resources and necessary skills development activities.
The Journey Forward - More Members, Stronger Ties...
THEME FOR THE YEAR 2005 / 2006
President 2004/5

Prasad Jayasuriya
We will organize more knowledge sharing and fun events for the membership during the year. This will help members to build closer and more fruitful relationships with fellow members.
Realizing the importance of delivering value to the membership, we will endeavour to create opportunities for our members to share their experience, knowledge and ideas with academics, businessmen and significant personalities. This will also serve as a mechanism to fulfill our obligations as an association to the university, industry and the society.
Through these activities, we will focus on building value added networks within the membership. This will lead us to achieve our goal of making all alumni members of the association as participants in our journey forward. .
Theme for the year 2004/2005
President 2004/5

Kalyani Rodrigo
In keeping with our mission statement, this year we will focus on:
Improving professional and personal life of our alumni members, while contributing to the national, economic and social development.
We will emphasize on developing soft skills of our members, so that they will be better equipped to take leading positions in the business community here and abroad.
We will encourage our membership to explore their entrepreneurial skills by assisting them in company formation procedures, financial and other technical backing to have their own business ventures. this will in turn contribute to the national, economic and social development.
The Way Ahead - from a Mind Network to Mind spring
Theme for the year 2003\2004
President 2003/4

Neil De Mel
1."Building a Mind Network" the theme for 2002/3 will provide a base for expansion of future activities of the association.
2. We recognize our members as out greatest asset. Whilst a "Mind Network" provides the opportunity for networking and creating a multiskilled support base, "Mindspring" endeavors to tap this resource towards achieving our Mission.
3. We will persist in our endeavor to provide the membership with greater opportunity for closer and fruitful interaction with members, academia and the industry.
4. "mindspring" promises to deliver value by way of quality programs through the year.
5. "Mindsprig" will provide opportunities to generate innovative ideas and create forums among the membership for discussion and implementation of thease ideas for CMBAAA to forge ahead.